I've made a decision to change up my format a little for album reviews, track reviews I'm going to maintain the old format of reaction-style reviews with an overall commentary at the end, however for album reviews I'll be giving summaries of each track with a rating as opposed to writing as I'm listening. I wasn't very happy with some of my older reviews to be honest, so this way I can really express my thoughts professionally, while still maintaining the scoring system. Anyway, with that out of the way, I was really excited to review this album. This is Eminem's third and final classic album. Considering how much I loved SSLP and MMLP I really doubted this would top them, but I kept an open mind. At the pont when I started listening I had only heard four songs before; Business, Without Me, 'Till I Collapse and My Dad's Gone Crazy (I could only remember the hook). There's a general consensus that this was Em's last great album before he released Encore, which for a lack of a better word is apparently a terrible album. I'll find out soon enough though.
Track 1: Curtain's Up (Skit)
So, the album opens up with a short skit that perfectly sets up the whole image that is shown in the album cover, with Em walking onto a stage and preparing a mic before he starts the first song on the album, it's a really great transition, but I'm glad it's a separate track, it does fit perfectly with White America, however separating the two provides more time for the actual song.
Track 2: White America (Produced by Eminem and Co-Produced by Jeff Bass)
I really like the whole sound of this song, the production is great, it sound's pretty intense, and it would have fit pretty well on the Marshal Mathers LP. The song is all about White America being so shocked by him when he first blew up, trying to censor him and keep kids away from his music. He voices his typical frustrations he mentioned on the MMLP with parents worrying too much about him, spending attacking Em instead of just keeping an eye on their kids and parenting them properly. The hook is almost annoying at times but it is pretty catchy, his vocal inflection is the only problem I have with it. Overall this is a great song and he delivers the message really well, maintaining his typical great rhyme schemes, but making it sound effortless because of how focused he is. 5/5
Track 3: Business (Produced by Dr Dre)
I already knew this song very well before listening to it as a part of this entire project, and it's one of my favourite songs that Eminem has ever made. The beat is amazing, his delivery and rhymes are on point and the hook is really catchy and sounds great. Dre and Em are such a killer combo. Again, I have to mention the rhyme schemes.
Just to get to see an MC who breathes so freely
Ease over these beats and be so breezy
Jesus, how can shit be so easy?
How can one Chandra be so Levy?
Turn on these beats, MC's don't see me
Believe me, BET and MTV
Are gonna grieve when we leave, dog, fo' sheezy
Can't leave rap alone, the game needs me
I have no complaints whatsoever with this song, it really is all of the things that I like about Eminem in one song, and it's amazing. 5/5
Track 4: Cleaning Out My Closet (Produced by Eminem and Jeff Bass)
I'd heard a lot of good things about this song, but I never got around to listening to it, so I was interested to hear what all the hype was about. Eminem actually mentioned something about a missing snare on this song in Revival somewhere, I think it was Believe or Offended. The story is apparently Em literally couldn't hear the snares on the song in his headphones because they were accidentally muted, but he left it and just kept on going. If that's true that's dope as hell, and Em's genius annotation says it's true, so I doubt he'd be lying about it. Anyway, this song is about Em leaving his feelings in the past towards his mother. At the time, he had a lot of resentment towards her because of how she treated him horribly growing up, and unfortunately even after he found fame. The production is really great on the song and Em's lyrics are great as to be expected. This song lived up to the hype, even if it was different stylistically to what I expected. I was expecting him to be rapping his ass off over a crazy ass hype beat, but instead he was rapping his ass off over a well-crafted beat with an intense atmosphere. This is a fantastic song. 5/5
Track 5: Square Dance (Produced by Eminem and Co-Produced by Jeff Bass)
The production on this song really took me by surprise, I loved the overall sound of it and I was confused why I haven't heard more people talk about this song before. The hook is quite weird, so maybe that's why, but Em has some amazing schemes this entire song. He disses Canibus and the Bush Administration, it's a pretty damn dope track. I wish I found it sooner, but I'm glad I ended up discovering it. Like with most Em songs, I haven't got a whole lot to say in regards to the subject matter, but he murders the beat effortlessly. This is another dope track (Also even though the hook is weird, it sounds really dope). 4/5
Track 6: The Kiss (Skit)
This skit is apparently based on the true story of when Em caught Kim cheating on him and he went and punched the guy she was kissing in the head. It apparently acts as a setup for the story that plays out in the next two tracks to follow it.
Track 7: Soldier (Produced by Eminem)
I have a lot to say about this song. I was very confused at the beginning, because I instantly recognised the verse that he was spitting. (A really dope verse by the way). 
Never was a thug, just infatuated with guns
Never was a gangsta 'til I graduated to one
And got the rep of a villain for weapon concealin'
Took the image of a thug, kept shit appealin'
Willin' to stick out my neck for respect
If it meant life or death, never live to regret what I said
When you're me, people just want to see if it's true
If it's you—what you say in your rap's what you do
So they feel it's part of your obligation to fulfill
When they see you on the streets, face to face, are you for real?
In confrontation, ain't no conversation, if you feel
You're in violation, any hesitation'll get you killed
If you feel it, kill it; if you conceal it, reveal it
Bein' reasonable will leave you full of bullets
Pull it, squeeze it 'til it's empty
Tempt me, push me, pussies
I need a good reason to give this trigger a good squeeze
I pretty quickly figured out that I'd actually heard this before on a Soundcloud remix a few years ago, because I discovered a lot of good music by looking up an Eazy-E song on Soundcloud and then letting it keep auto-playing other songs. I found a bunch of Biggie, Pac and Em remixes, even an Eazy-E remix this way. I'd let the iPod play while I was rebuilding all of my old Lego sets lmao. But anyway, this is the song that I was thinking of.  I still really like this song and I added it to my Soundcloud playlist, it features a bunch of verses from different songs all thrown together over a really nice beat. Shoutout to Miqu, he's the guy that originally created the remix. In regards to the original song, it's really great. The instrumental is amazing, it really sounds like something badass is happening. Em sounds so aggressive and delivers nothing but incredible verses and a great hook for the entire song, this is one of my new favourite tracks. Apparently the story of the track is supposed to be Em dealing with weapons charges that he faced, and is a continuation of the skit. I'd definitely say it follows the theme of the skit, but I don't know if it necessarily tells a cohesive story. It's still dope though. I'm so glad I decided to listen to all of Em's old albums. 5/5
Track 8: Say Goodbye Hollywood (Produced by Eminem)
This is another song with great production. I really feel like I just constantly repeat myself on all of these Em reviews. He has great rhyme schemes, a great delivery and another solid hook. Unlike with Soldier, I genuinely believe this song tells an interesting and good story. It talks about when Em hit Gary, the man that was making out with Kim. In the first verse he mentions that Kim ran away as soon as he hit Gary, leaving him defenseless against the swarm of bouncers that came out and attacked him. Even his friend that he was staying with got smacked by bouncers too. The second verse speaks about how sometimes he just wants to end it all, because of how tired he is of the problems in his life. He ends up continuing this and elaborating on how alienated he feels now that he's so famous. I really appreciate the thought that Em put into this entire song. In my opinion this is easily one of the best tracks on the album. 5/5
Track 9: Drips (feat. Obie Trice) (Produced by Eminem)
The beat on this song is sick as hell. The hook is well written and I like the lyrics, but the delivery is just a little irritating. I'd never heard Obie Trice before this song, and I think I'm going to check out some of his solo stuff. I really liked his delivery and he had some good metaphors, even if it was all about sex. This is one of those songs where even though I typically hate sexual tracks, I still thought it was dope anyway. There were a few lines I could've done without in Obie's verse, especially the slave owner line, but he still sounded great. Em really goes in though, he easily has the best verse. The entire concept of the song is Obie and Em have sex with this chick but she gives them both aids. It's essentially a dope ass song about why you should wear condoms. I can't get over how great this production is though. Another one to add to the list. 4/5
Track 10: Without Me (Produced by Eminem Co Produced by Jeff Bass, and DJ Head)
I love this song. The production is really cool, I think a saxophone is in the background, and I love actual instruments being used in songs. Amazing production aside, Em has some of his most quotable lines on this song. Whether it's the "two trailer park girls go round the outside", the diss to Moby, the crazy rhymes or the chorus, everything on this song is amazing to me.The whole track is really catchy and is just packed full of rhymes. This is one of those Em songs I'll never get bored of. There's not a lot to say otherwise. He has a fantastic flow, ridiculous rhyme schemes, dynamic delivery and captivating charisma. 5/5
Track 11: Paul Rosenberg (Skit)
This is another Paul Rosenberg skit continuing on from previous albums, this one is him telling Em to be more careful with his gun's. It's not really that funny or entertaining, but it does help to set up the story that Em is trying to tell this whole album.
Track 12: Sing for The Moment (Produced by Eminem and Jeff Bass)
This was another iconic Em song I hadn't heard yet. I don't know how I can be white and not have heard so many songs by Em, but oh well. The production is amazing yet again. To be honest this entire album has fantastic production overall. I love the guitars in the background of the track. This song is all about taking the time to not overthink everything, taking time to just make something genuine, sing for the moment, just do it now because you can. Em speaks about the influence he has on kids and how his image in his music taints people's overall perception of him. The hook is sampled from an Aerosmith song and it sounds really good. It perfectly matches the overall feel of the song.I definitely think this is underrated, I personally heard way more about cleaning out my closet than this song, and I think this is equally as good. This is really something else. 5/5
Track 13: Superman (feat. Dina Rae) (Produced by Eminem and Jeff Bass)
I've liked all of Dina Rae's contributions to Em's music so far, so I expected this song to be great, and I wasn't disappointed. The production is fantastic, and although Dina's contribution is small, it really helps make the track better. This entire song is about Em being single now and embracing sex with other women with no strings attached. He sounds fantastic over this production, and I really like how he flows throughout the track. The refrain and chorus are both really nice to listen to. I was very surprised by how much I liked this song, I knew it would be good, but it turned out even better than I expected. 5/5
Track 14: Hailie's Song (Produced by Eminem)
I thought it was pretty funny that Eminem mentioned the fact he couldn't sing before he started. Surprisingly I actually liked his singing on this song a lot. I was expecting it to be terrible, but It was actually really heartfelt and pretty nice. I heard somewhere that this song was wack, but I really disagree. I think this is the best singing Em's ever done on any of his albums I've heard so far. Em's verse at the end of the song is great too. I like the fact he dedicated this song to Hailie, he seems to really love her a lot. This is a great song to be honest, it's another one that really surprised me. I wouldn't mind Em singing more if he did it like this. 5/5
Track 15: Steve Berman (Skit)
This is another skit involving Steve Berman, but in this skit he actually likes the album. Em kinda shoots him and kills him though. So that sucked for him.
Track 16: When The Music Stops (feat. D12) (Produced by Eminem and Denaun Porter)
This production sounds like the Slim Shady LP at the beginning. But then it sounds really great as it continues and fits into the whole sound of the Eminem show a lot better. Em raps his ass off on this song, but D12 really impressed me this time. I liked their contribution to the MMLP, but I think that all of them murdered this beat, even Bizarre. Swifty's verse was great, Kon's verse was really genuine and honest, Kuniva rapped really well and kept rhyming his ass off, Proof killed it as usual, he's definitely my favourite D12 member, but I think Kuniva had the best verse out of D12. Bizarre's verse was actually funny instead of being cringey, Overall this song was really dope. This is probably the album's most regular sounding hip-hop track. 4/5
Track 17: Say What You Say (feat. Dr Dre) (Produced by Dr Dre)
This song sounded pretty unique. The production was something I wasn't a big fan of at first, but it grew on me quickly. Em kills it just like he usually does, and I really liked Dre's contribution to the track. I think he suited the production more than Em did. This song is all about the two of them dissing Jermaine Dupri after he said he was better than Dre and Timbaland at producing. Em and Dre keep trading bars at the end of the song and it's really dope. This is another great track. I liked how Timbaland had the voice message at the end of the song too. 4/5
Track 18: 'Till I Collapse (feat. Nate Dogg) (Produced by Eminem)
This is a really great motivational track to listen to. It really gets you hyped up, makes you feel like you can do anything. The production is great, and of course Nate Dogg has an amazing chorus. This is basically Lose Yourself before Lose Yourself came out. This is Em's original inspirational hype track, Lose Yourself is better, but this song is still great. There isn't much else to say other than the fact that I love this song. 
And it's absurd how people hang on every word
I'll probably never get the props I feel I ever deserve
But I'll never be served, my spot is forever reserved
If I ever leave Earth, that would be the death of me first
'Cause in my heart of hearts I know nothin' could ever be worse
That's why I'm clever when I put together every verse
I really love these lyrics in particular. This is a classic, plain and simple. 5/5
Track 19: My Dad's Gone Crazy (feat. Hailie Jade) (Produced by Dr Dre)
I think this song has the weakest production on the entire album to be honest. It's not even bad, but it's just not as great to me as the rest, excluding when it switches up for the last verse, that instrumentation was incredible. The is song is pretty cute at the start when Hailie's talking and her and Em are going back and forth. It was definitely my least favourite song on the album, but I wouldn't ever think of taking it off. It's a cute song, even if Em is being his usual self the whole time. The third verse on the song is great though, and the start of the second verse is hilarious.
It's like my mother always told me
Rana rana rana rana rana rana rana rana rana and codeine
And goddamn it, you little motherfucker
If you ain't got nothin' nice to say, then don't say nothin'!
… Uh… Fuck that shit, bitch!
I really like this song a lot, at first I didn't really like the hook that much, but after listening to it more and more it grew on me greatly. This is another great song. 4/5
Track 20: Curtains Fall (Skit)
I was disappointed that there's no Ken Kaniff skit on this album, until I heard his voice come in on this final skit. Yet again this cracked me up. He takes the lyrics at the start of Without Me and makes them gay in an empty room using the mic on the stage. This is a great way to wrap up the album.
Final Thoughts
Well, this was way better than I expected. This is definitely a certified classic in my eyes. I heard some people say it was a classic, however I wasn't sure since I'd never heard it, but I have to agree. This is great from beginning to end, the Ken Kaniff skit is a great touch too. I absolutely love this album and I was completely blown away by how consistent Em's first three albums were. It's a shame I'm listening to his apparent worst album next, but who knows, maybe it's not as bad as everyone says. Time for the Encore of the Eminem Show.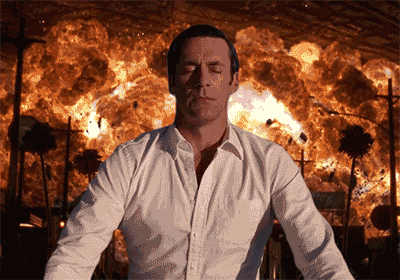 Overall Rating: 93/100
Favourite Tracks: Without Me, Business, 'Till I Collapse, Superman, Say Goodbye Hollywood, Soldier, Cleaning out My Closet, Sing For The Moment, Hailie's Song
Least Favourite: My Dad's Gone Crazy
Please reload